---
Whether you're one who loves taking showers, or one who delights in sitting and soaking; Beyond Bodie wants to be your number one source for skincare and aromatherapy products.
Shop our All Natural Deodorant!
Finally, a product that won't leave you smelling unfavorable!
Comes in two different sizes, and various scents, with the option for "Unscented".
Get your natural deodorant now!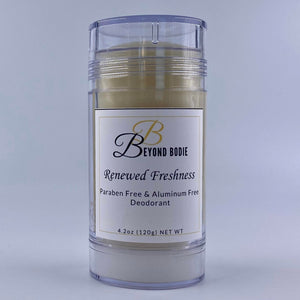 ---
*Disclaimer
1) Beyond Bodie is not a licensed physician; the information and products listed on our site has not been evaluated by the Food and Drug Administration (FDA). Our products are not intended to diagnose, treat, cure, mitigate or prevent any disease or medical condition.
2) Keep in mind, all products are HANDMADE, and color variations are to be expected.